About Us
It all started in 1956 from a small Texas storefront in the Oak Cliff neighborhood just outside downtown Dallas along historic US Highway 80. With a menu that reminds you of home and servers who know you by name, Norma's Cafe began welcoming hungry guests from across the Dallas-Forth Worth Metroplex with its Texas comfort food.
Owner and Cafeteur Ed Murph likes to put it this way, "We make more than great comfort food; we make great friends and memories."

And he should know. As a boy growing up in Oak Cliff, Ed used to eat at Norma's Cafe. He made some friends, loved the food and created many memories. He loved it so much that he bought the place more than 30 years ago from Norma herself. Today, the Norma's Cafe tradition stays the same – just like Ed and so many like him from Dallas remember.

Our big, country breakfasts are what packed the house first. Fluffy biscuits and creamy gravy. Omelets stuffed tighter than a suitcase. Hot and hearty pancakes, waffles and cinnamon rolls. And although our breakfasts have won some awards, we like to think people come see us because they love great, home-style cooking.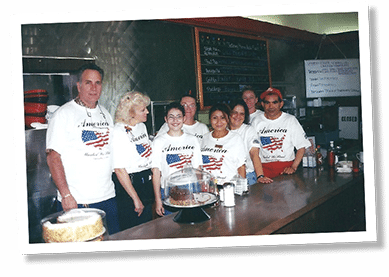 Breakfasts aren't the only thing getting Norma's Cafe noticed. Stop by for lunch during work or for dinner with the family for mouth-watering items, such as Southern-Fried Catfish, delicious Meatloaf, home-style Chicken and Dressing, and our famous, Texas Chicken Fried Steak. And don't forget to make room for one of our Mile-High Pies™, freshly baked fruit pies and steaming, hot cobbler.

We like to consider Norma's Cafe as the family dining room – scratch cooking that reminds you of home, a friendly touch at the table and a place you leave with good memories (and probably, a takeout bag).

Norma's Cafe is the Texas home cooking destination of Dallas. Come find out why today.